How to Write a PICOT Question: Step-By-Step Process
Wondering why you need to learn how to write PICOT question? Registered nurses (RNs) start their research queries utilizing an evidence-based practice framework created from a well-constructed PICOT question, regardless of whether they are completing DNP project or working in a professional clinical setting.
What is a PICOT Question?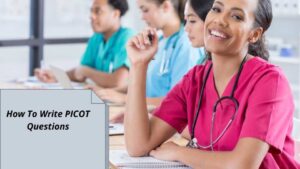 The PICOT question is a standardized formula for creating questions that may be researched and answered. The letters PICOT stand for patient, intervention, comparison, outcome, and (sometimes) time, which are the components of a clinical research question as shown:
P (Population/Patient) – Individuals with a specific illness, age, gender, ethnicity
I (Intervention/Indicator) – Risk behavior, exposure to a disease, prognostic factor
C (Comparison/Control) – may represent placebo or "business as usual" in the absence of sickness, a risk factor, or Prognostic Factor B
O (Outcome) – Risk of disease, diagnostic precision, frequency of unfavorable outcomes
T (Time) – the amount of time required for an intervention to produce a result or for participants to be monitored
Why Learn How To Write PICOT Question?
Why matters? As a clinician, you perform the best research to support your decisions. Your conclusions may influence a patient's course of therapy or improve quality of life. Your research can have a real-world impact by compiling the most significant literature available using this clinical approach, and PICOT can assist you! PICOT's ultimate objective is to intervene in a patient's medical care.
7 Step-By-Step Process Of Writing a PICOT Question
The PICOT procedure starts with an ambiguous clinical question. A well-structured query is developed as a result of each step in the process. If you keep the following in mind, creating a PICOT question will be simple:
P (Patient, population, or problem) -Who or what is the patient, people, or issue at hand?
I (Intervention) – What is the proposed intervention (action or treatment)?
C (Comparison or control) – What other interventions should be considered?
O (Outcome or objective) – What is the intended, anticipated, or desired goal?
T (Time frame) – How long will it take to get the intended result?
Utilizing the PICOT approach aids in creating a thorough and meaningful query that facilitates the search for evidence, according to the author from the University of Oxford's renowned Centre for Evidence-Based Medicine.
The general illustration provided in the EBSCO Health whitepaper is as follows: A committee agrees to perform a case study to see if chewing gum after abdominal surgery can help patients avoid developing a postoperative ileus (lack of intestinal movement). Researchers must decide on a need or justification for the study before they can create a PICOT question. With the scenario in mind, researchers employ the following seven phases to develop a PICOT question:
a) Write the PICOT query in broad terms: The study question might be, "In patients recovering from abdominal surgery, is their evidence that shows gum-chewing postoperatively, as opposed to not chewing gum, influences postoperative ileus?" based on the EBSCO Health example.
b) Determine the PICOT mnemonic's keyphrases:
P – Patients recovering from abdominal surgery
I – Chewing Gum
C – Not chewing gum
O – impacts the ileus after surgery
c) Plan your search strategy by deciding which databases and other search engines you might use to obtain information and solutions while keeping the question in mind. Researchers employ techniques to make the most of their search queries, such as seeking up synonyms and similar-sounding phrases.
d) Search: Researchers first look at each PICOT component independently. Use the search phrases "abdominal surgery," but also consider the terms "recovery and postoperative," for instance, when looking up individuals who have recently undergone abdominal surgery.
e) Improve the outcomes: Limit the works that appear in the search results to those that include relevant information, such as papers from peer-reviewed journals or research materials.
f) Examine the content: Examine the study findings to determine if they contain the data required to respond to the PICOT question.
g) Check to see if research findings are up to par: Examine them and decide if they offer the most significant evidence.
It is decided which kind of study is most suited when the PICOT question has been developed and researched. Research methods include case reports, cohort studies, case-control studies, systematic reviews, meta-analyses, and randomized controlled trials.
Also read
PICOT Question Examples
Population: Adolescents with obesity contemplating or having had gastric bypass surgery.
Intervention: The primary responsibility of the nurse in the multidisciplinary team for the perioperative treatment of the bariatric adolescent patient.
Comparison: The bariatric teenage patient's perioperative care is the nurse's only responsibility as a secondary multidisciplinary team member without special training.
Outcome: The bariatric teen patient has a more excellent continuity of treatment when the nurse is one of the key players in the multidisciplinary team approach.
Time: Includes the six weeks after surgery for healing.
PICOT Question: Does the bariatric adolescent patient undergoing gastric bypass benefit more from the continuity of care during the perioperative period and afterward when the nurse is a primary member of the multidisciplinary team instead of a secondary member whose sole responsibility is to provide perioperative care and lacks specialized training?
Best Practices For Writing  PICOT Questions
Remember that PICOT questions should be precise, searchable, and impartial because they will guide your literature search.
Your PICOT query is NOT your project. It serves as the basis for organizing the subsequent actions.
Directional words like "improve" or "decrease" never appear in PICOT questions.
You will be able to create substantial PICOT questions by using a template.
You might or might not have a comparison or time (the "C" and "T" in PICOT, respectively) depending on your question.
Frequently Asked Questions
Do PICOT Questions Have To Be in Order?
Any order, even the "TOCIP" order, is acceptable. Whatever portion of the formula you choose to begin with.
What Is the Purpose of a Picot Question?
A PICOT question is a simple approach for identifying the terms to use in searching for the best evidence to address a pressing clinical topic.
What Is the Difference Between a Research Question and a Picot Question?
PICOT is a clinical question, which distinguishes it from a typical research question. It comprises numerous components that build a framework for the study that is typically absent from conventional research topics.
Summary
Clinicians interested in patient care-related research should consider using a literature search and the PICOT format when working with clinical researchers. This strategy will give clinicians and researchers a starting point for understanding, guidance, and communication to address the most pertinent clinical study questions.